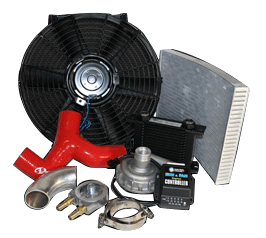 We strive to sell and produce the highest quality products possible, while still offering value for money.
Combined with our technical expertise and first class service, we believe that we are able to meet our customers requirements.
Our product range are mainly focused on aluminium heat exchangers and the value added products that complement the range of aluminium heat exchangers.
From our custom aluminium radiators, large range of intercoolers and oil coolers to our brushed and brusless radiator fans, 12 & 24 V electric water, oil and diesel pumps as well as our range of silicone hose and bends, we aim to deliver complete cooling solutions to mobile and stationary applications.
The following products have recently been added to our range and deserve a special mention as they are unique to our market:
For extra of mind, all our products are sold with a warranty.