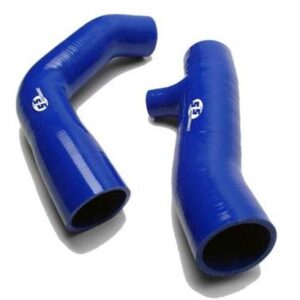 SFS silicone are made of specially formulated compounds to ensure excellent tensile strength and resistance to compression set. In addition, they reinforce their silicone hoses with Polyester or Nomex, enabling their products to handle far higher pressures than standard black rubber hoses.
The world's premier Motorsport teams regularly select SFS silicone. Their handmade silicone rubber hoses are constructed from one of the toughest polymers available, making them ideal for the high performance environment. All their hoses handle extremes of temperature (from -60°C to +220°C) and have superb resistance to UV, water, ozone and oxygen. SFS Performance direct replacement hose kits don't just add race-bred style to an engine bay, they also provide peace of mind. Their high performance construction ensures total component reliability, even if you have modified your engine. Their hose kits can take far higher temperatures and higher pressures than the original parts, and won't deteriorate, no matter what you put them through.
The SFS silicone range of direct replacement hose kits for motorbikes and quad bikes are manufactured to exacting race specifications. Suitable for motorsport or road use, the hose kits will not only add peace of mind – they also look fantastic. Whether you are into Motocross, Supercross, Trials or Superbikes, SFS silicone hoses have been proven at the highest levels of racing.The seven available colour options have been specially developed to match the different bike manufacturers' corporate colours. By using the highest quality silicone and adding three layers of reinforcement, SFS Performance hoses take much higher temperatures and pressures than the original manufacturers' hoses.
Request a Quote