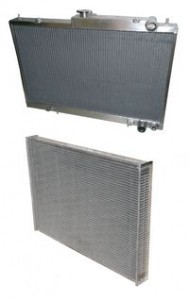 Due to aluminium's thermal conductance, light weight and the quality of the brazed construction, it is widely accepted as the best heat exchanger construction material. For this reason we only supply aluminium radiators. We have assembled a range of imported radiator cores that range in thickness from 43 to 58 mm. This enables us to manufacture complete units for almost any application. Should we not have a suitable core in our range, it can always be custom ordered. Custom cores are available from 20 to 114 mm thick.
We do a full 3D CAD design of each complete aluminium radiator, before manufacturing. This ensures on average a shorter turnaround time as we get it right the first time. Each complete radiator are pressure tested as part of our internal quality system.
We supply to, but are not limited to, the following markets: motorsport, street modified cars, 4×4 vehicles, light aircraft, motorbikes, quads, etc.
Request a Quote