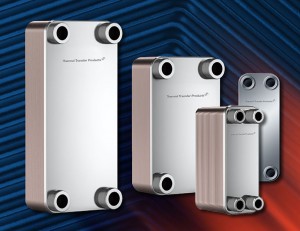 A brazed plate heat exchanger is constructed as a series of corrugated channel plates stacked between front and rear cover plates.
The cover plates can be configured with sealing plates or with blind rings.
Connections are mounted on the cover plates and can be customized to meet specific market and application requirements.
During the vacuum brazing process, a brazed joint is formed at every contact point between the base and the filler material.
This design creates a heat exchanger with two separate channels or circuits.
Our BP Series heat exchangers are rugged, compact, cost-effective and reliable over long periods of time with minimal maintenance – an optimal heat transfer solution for compact industrial applications.
316 stainless steel construction and standard SAE connections are features of this highly efficient technology.
The compact design and multiple mounting options lead to optimization of heat transfer when space is limited.
High plate channel turbulence means effective performance even with close approach temperatures.
Request a Quote