For Immediate Release
Davies Craig complements Electric Booster Pump range with the EBP®40.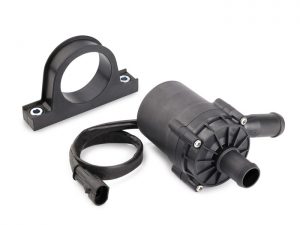 Altona North, Victoria, February 4th 2016 ~ Iconic Australian automotive cooling technologies manufacturer, Davies, Craig Pty Ltd has added another great Electric Booster Pump, the EBP®40 to its range. The new brushless EBP®40 is available in both 12v & 24v and offers a wide variety of applications. The new EBP®40 Electric Booster Pump complements the versatile EBP®25, EBP®23 and the EBP®15 litre/min booster pumps which have drawn high praise nationally and globally.
The release of the new 12v & 24v EBP® 40 Electric Booster Pump unlocks broader applications and adds another player to the air-to-water intercooler market. This new EBP®40 is a centrifugal pump with an impeller driven by an electronically commutated motor. The key benefit is the elimination of brush wear common with conventional brushed electric motors.
Its compact design ensures versatility with the EBP® suited to a variety of automotive, solar, recreation, mobile home, marine, domestic and water reticulation applications. This booster pump can be used to enhance OEM engine cooling systems, improving coolant circulation assisting to control engine temperatures.
Commenting on the new addition to the EBP® line up, Sales and Marketing Manager, John Benson stated, "The EBP® 40 fills another important market niche with the larger flow capacity, increased performance and very compact size. We now have four versatile EBP® models to complement our EBP®15, EBP®23 and EBP® 25 models".
EBP® 40, 12v, Barcode: 9 311669 09040 2 – RRP $250.00 +GST
EBP® 40, 24v, Barcode: 9 311669 09041 9 – RRP $250.00 +GST
With a 37 litre/min flow rate, long-life brushless motor 12v or 24v operation and a positive-head, these new booster pumps are picture-perfect for air-to-water intercooler and turbo/supercharger kit applications. There are a variety of other applications including;
Camping/Caravan/Recreation
Truck – cooling system booster
Marine
Solar
Irrigation
Domestic
For optimum coolant flow control one can use either of the Davies, Craig Thermatic Switches the #0400 Combo or the Digital #0444. For other applications not outlined here, check out our Davies, Craig website www.daviescraig.com.au
EBP 40 Technical Specifications – (24v specifications in brackets)
| | |
| --- | --- |
| Motor | 12v (24v) Brushless |
| Operating Voltage | 9v DC to 15v DC (21v DC to 27v DC) |
| Maximum Current | 4.6 Amps (2.5 Amps) |
| Flow rate | @ 12v 37 L/min |
| Operating Temperatures | – 40°c to 120°c |
| Pump Design | Recirculating Centrifugal |
| Motor Life | 10,000 Hours @ 80°c |
| Weight | 570 grams (1.25lb) |
| Material PPS / PA66 | Burst Pressure 250 Kpa (36psi) |
| Inlet & Outlet Size | 19mm (3/4") |
| IP Rating | IP67 |