Altona North, Victoria, June 30th, 2016 ~ Iconic Australian-owned and operated cooling technologies manufacturer, Davies, Craig Pty Ltd adds the 14" Brushless Thermatic® Fan to its range!
This model complements the recently-released 11" brushless fan and the other, very popular Thermatic® Fan range. The 14" Brushless Thermatic® Fan has a tidy compact nylon composite shroud and blade with a long-life brushless motor. This style of brushless Thermatic Fan suits heavy duty air conditioning/condenser applications.
The 14" Brushless Thermatic® Fan offers the same high performance air flow feature offered by other Davies, Craig electric fan models to the automotive industry for the past forty five years. This low-profile, high performance 14" Brushless Thermatic® Fan supplies constant, powerful, high air flow which increases cooling/heat exchange efficiency.
Davies, Craig's Sales & Marketing Manager John Benson commented, "Davies, Craig is an all-Australian owned and operated company and has been supplying sophisticated Thermatic Fans to the automotive and air-conditioning industries for the past 45 years. The company now offers this state-or-the-art compact, lightweight brushless 14" electric Thermatic Fan to compliment the 11" brushless fan."
Davies, Craig Thermatic Fans can be used as either a primary or secondary source of engine and/or air- conditioning cooling;
Economical replacement for failed Original Equipment (OE) electric fan.
5-10% increase in engine power and valuable fuel saving when replacing the original fan clutch and/or mechanical belt-driven fan assemblies
Operated in conjunction with the EWP80, EWP115 Nylon/Alloy models and EWP150 Electric Water Pumps & LCD EWP/Fan Digital Controller Combo Packs
Compatibility with all Davies Craig thermal controlled electric switches
Consistently strong air flow regardless of vehicle engine speed
Wide variety of other applications
Davies, Craig's state-of-the-art website www.daviescraig.com.au  offers viewers 24/7 access to detailed product information, applications, dimensions, specifications, frequently asked questions (FAQs), installation instructions, news, views and well documented testimonials.
Davies, Craig has an on-going commitment to offering detailed product information and valuable assistance to the entire automotive aftermarket globally relating to 'cool' automotive technology products.
Part: #0140 – Thermatic Fan – 14″ 12V Brushless
Barcode: 9 311669 001408
Recommended Retail Price: $375.00 +GST
For further information please contact: Mr. John F Benson, Sales & Marketing Manager
T: (03) 9369 1234; F: (03) 9369 3456; M: 0418 130 600; E: johnb@daviescraig.com.au
Technical Specifications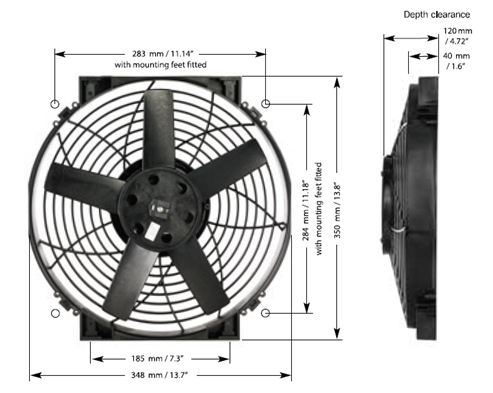 Technical Specifications
Items
Description
1.
Rated Voltage
13 VDC
2.
Rated Current
8.0A +U10%
3.
Rated Power
90W
4.
Rated Speed
2650 RPM+10% RPM
5.
Category
Brushless
6.
Air Flow Direction
Clockwise
7.
Weight
2.2 Kg (4.85 lb.)
8.
Air Flow
1000 CFM (ft3/min)
8.
Lead Wires
Length 450+/-20mm, Stripped and tinned 5mm.
9.
Material
66 Nylon/Glass