We offer the following cooling services in conjunction with our product range.
Design
We have the resources to design a complete cooling solution according to the client's specifications. We are able to take accurate measurements at the client's premises in order to design the best possible solution. Given all the necessary input data, we can calculate performance data for most of our product range. Using 3D CAD software we are able to set up drawings to check compatibility and integration with the client's cooling system, before manufacturing.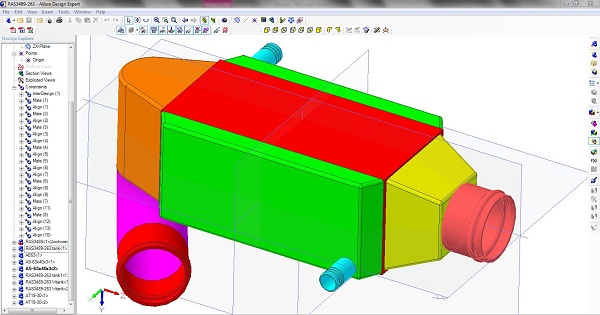 Manufacturing
Our fully equipped workshop enables us to manufacture complete cooling systems in-house. We can also do the following:
Re-coring of intercoolers and oil coolers
Manufacturing of aluminium intercooler and radiator header tanks
Manufacturing of expansions tanks
Manufacturing of boost pipes
General aluminium and stainless steel welding
Custom Built Radiators
We have the following manufacturing equipment:
1 x HAAS SR-100 Gantry – profile cutter
1 x 30 ton press brake
2 x 300 amp AC/DC water-cooled welding machines
1 x 1 meter lathe
1 x 1.3 meter guillotine
1 x 300 mm diameter cold saw
1 x heavy duty polisher
1 x plate roller
1 x box and pan folder
1 x "Jenny" lip roller
2 x band saws
1 x pedestal drill
1 x disc sander
1 x 12 ton hydraulic press
Pressure testing
We have a large (1.5 x 1.5 m) pressure test tank for pressure testing intercoolers, oil coolers and radiators with air up to 6 bar. We also have a custom build pressure test unit that can test up to 30 bar pressure with water.
Repairs
We can repair intercoolers, oil coolers and aluminium radiators with either aluminium welding or specialised glue.