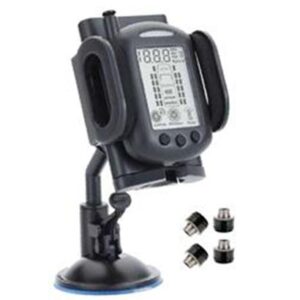 Tyre Pressure Monitoring System operating instructions
The Davies, Craig TYREGUARD 400 TPMS (Tyre Pressure Monitor) is a unique electronic safety system for monitoring air pressure and temperature in tyres.
It consists of simple easy-to-install, screw-on wireless sensors and a
hand-held monitor. Fixed to the tyre valve, each sensor monitors the air pressure and temperature inside the tyre, and then transmits the air pressure and temperature information to the monitor.This information is then graphically illustrated on the monitor screen and the operator can scroll through the data for each individual tyre.The driver or passenger can read the specific data of each tyre's air pressure and temperature parameters displayed on the screen. An
audible alarm will sound and the red LED light will flash should thetyre pressure and/or temperature vary markedly from each tyre's targeted air and temperature settings.
The TPMS will monitor the air pressure and temperature of up to 22
tyres with a pressure range of 0 to 1,000 kPa (145psi) and sensors
within 7.6 meters (25 feet) of the device.
Request a Quote