The Setrab ProLine COM coolers are hi-performance, heavy duty oil coolers for demanding conditions with high heat loads.
The COM coolers are vacuum brazed tube-and-fin design heat exchangers that can withstand working pressures of up to 16 bar and are suitable for automotive and industrial applications.
In addition to the brazing process, which by itself provides a very good internal surface treatment, Setrab coolers receive an epoxy coating to further enhance the outer corrosion resistance and to give the coolers a high surface finish.
The brazing process along with the epoxy coating results in a very high quality product that is both tough and vibration resistant.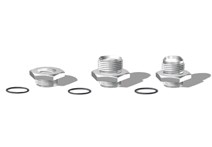 The Setrab Adapter System are used on all the Setrab oil coolers. The coolers are manufactured with specialized low-profile female M22x1.5 mm ports. These are converted to JIC-06, -08, -10, -12 and -16 as well as BSP 3/8", ½", 5/8" and ¾" fittings, appropriate for each application with the use of Setrab adapters. A seated o-ring base provides a positive internal seal to the cooler.

464COMF-15 2P
528COMF-15
528COMF-15 2P
2 pass (U-Flow)
1 pass (I-flow) Optional connection placement.
2 pass (U-flow)
Part no.
Type
Length
Height
Depth
C/C
Core/Tot.
Core/Tot.
Core/Tot.
M8 studs
52-13141-01
464COMF-12 2P
464 / 532
107 / 121
46 / 50
52-12864-01
528COMF-15
528 / 596
136 / 148
46 / 50
428
52-12965-01
528COMF-15 2P
528 / 596
136 / 148
46 / 50
428
Request a Quote